International Sustainable Leaders MeetUp #3
21. Oktober 2021 17:00 - 18:00
zoom
Be part of an engaging global network of business leaders driving sustainable innovation! Our monthly events for managers and entrepreneurs provide you a unique opportunity for professional and personal growth. During our events, you will learn from inspiring innovators, network with like-minded business people and engage for the benefit of people and planet. We're more than a usual sustainability network by making personal connection, authentic creativity and continuous involvement great again!
Frequency: 1h monthly
Engagement: 4 sessions at least
Price: free
As a sustainable entrepreneur or manager working on sustainability you face quite complex challenges. You may need to deliver quick impacts, have to convince your (share- and) stakeholders and at the same time want to deliver for the benefit of the communities and ecosystems you operate in. On top of all that, you face the impact of a global pandemic and are challenged to keep up your work-life balance and health.
Lucky you!
Our brand-new format helps you to advance without committing too much. At the same time, you will benefit from the broad networks and expertises of ManagersForFuture, Sustainetwork and our supporters from Sustainable Leaders. During our events, we will focus on innovating your leadership, green technology and hands-on climate solutions. Every month, you'll be able to speed-date with other sustainable leaders in break-out sessions to grow your network. To not bore you out, we will have slightly different formats with impulse speeches, hot seats or Pecha Kutchas each time.
If you're willing to take your leadership the next step, want to actively engage in our network and commit to attending our meetings regularly, we're happy to accept your application!
| | | |
| --- | --- | --- |
| Activity | timing | Organiser |
| Grounding exercise | 5' | Perspectivist |
| Impulse speech: Measuring Sustainable Corporate Culture – Taking advantage of the leading indicators for change and business success | 10' | Sustainetwork |
| Break-outs: what are your climate solutions? (5 per group, 3 min each) | 15' | Sustainetwork |
| Speed-networking | 5' | Sustainetwork |
| Speed-networking | 5' | Sustainetwork |
| What's Sustainetwork? | 5' | Sustainetwork |
| Speed-networking | 5' | MFF |
| Speed-networking | 5' | MFF |
| What's ManagersForFuture? | 5' | MFF |
Measuring Sustainable Corporate Culture – Taking advantage of the leading indicators for change and business success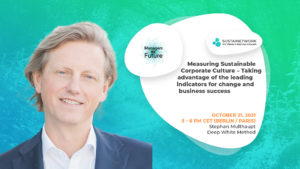 The transformation to sustainable business must not only be tackled as quickly as possible, but accelerated as much as possible. However, this can only succeed if the perspectives of sustainability are deeply rooted in the corporate culture – in the mindset of all employees, in all decisions and strategies and across all levels.
This is not yet the case. For instance, the German WHU Controller Panel 2021 shows that less than 15% of companies claim to have a strong sustainability culture. How can we close this gap? By determining the status quo and deriving targeted measures on it.
For this purpose, the deep white method was developed almost 20 years ago in cooperation with the University of St. Gallen. The method enables to quantitatively measure and to steer the "soft factor" of corporate culture – a key requirement to success. By extending the notion of corporate culture to the mindset of sustainable value orientation, we can determine the formation of a sustainability culture. It makes the anchoring of the sustainability strategy visible.
What is gained?
An instrument for controlling and monitoring the sustainability culture
The identification of fields of action to achieve the strategic objectives
Concrete measures in the areas of strategy-, brand-, organisational- and leadership development or internal/external communication.
In addition, win-win situations are created in the dialogue with auditors, investors and banks as well as in supply chain management.
Stephan Multhaupt presents the process in his keynote speech: from the employee survey, which provides the basics, to the development of the fields of action and targeted, efficient, effective measures. #ItsAllAboutPeople
Please click on 'In den Warenkorb' to get your ticket.
| Ticket-Art | Preis | Warenkorb |
| --- | --- | --- |
| Standard Zoom | 0 € | |